Construcciones y Contratas Bernardo, S.A.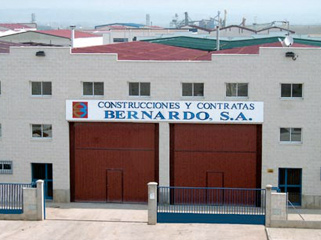 Construcciones y Contratas Bernardo, S. A.
are a family owned and operated construction company founded in 1992 by the Bernardo Brothers after more than 30 years' experience of working together in other types of company structures as they grew their business, which has always been dedicated to construction.
COMPANY WITH YEARS OF EXPERIENCE GAINED OVER THE YEARS
which has been constantly strengthened by enhanced technical and human resources that has allowed them to meet innovative commitments dynamically and flexibly. This factor has enabled us to offer a quick response to our clients' needs.
Construcciones y Contratas Bernardo, S.A.
Company specialised in:
Residential
Construcciones y Contratas Bernardo, S.A. are contractors dedicated to building all types of new homes, particularly single-family houses, with involvement from the initial design stages to the finishings and delivery of turnkey projects.
Exclusive designs are prepared on request, ranging from rustic styles to the most cutting-edge contemporary dwellings.
The company also carries out remodelling and refurbishment of homes, industrial buildings and commercial premises, adapting them to the needs of our clients.
The company also carries out complete and partial retrofitting of buildings for one or more of the following purposes:
• Ensuring structural and building safety, incorporating structural elements with suitable mechanical resistance and stability that are appropriate for the specific use.
• Improving water and moisture protection systems.
• Improving natural light and interior ventilation.
• Improving water, gas, power and drainage systems.
• Improving accessibility through the removal of architectural barriers and functional adaptations to suit the needs of people with disabilities.
• Improving energy efficiency.
• Improving access to telecommunication, audio-visual and information technology systems.
• Improving the layout and dimensions of interior spaces as part of home retrofitting projects.
• Installation, renewal and improvement of lifts and their safety systems as part of retrofitting projects for common spaces in buildings.
Industrial
Construcciones y Contratas Bernardo, S.A. have a long and broad experience ein the construction of all types of industrial buildings, whether for manufacturing (construction of buildings for production, storage, workshops, etc.), livestock farming (buildings to house pigs, cattle and poultry) or agriculture (grain and produce storage, with specific diaphragm walls, heights and enclosures) adapted to the industry and legal requirements.
We work with different structure types, such as metal and precast concrete. We also construct walls using prefabricated systems, concrete block or metal panels, and roofs in tile, metal and sandwich panels..
Each of our activities is coordinated with our clients from start to finish.
Hydraulic structures
Another of the fields in which Construcciones y Contratas Bernardo, S.A. specialise is in the construction of hydraulic structures, particularly those designed to meet the needs of primary industry. This includes the construction of irrigation networks (open and closed-channel, etc.), reservoirs, water treatment plants and irrigation delivery systems. Collaboration with government entities and irrigation communities..
The company also actively participates in construction of mitigation structures in the wake of floods and damage caused by adverse meteorological events. This is the case in the company's involvement with the reconstruction of embankments in Biescas, in the province of Huesca, repairs to the levees along the River Ebro and the rebuilding of roads and accessways damaged by floods in the Cinco Villas district of Aragon, among others.
Roads
Construcciones y Contratas Bernardo, S.A. offer services in the construction of road-related projects, such as:
- Urban infrastructure: projects for the installation of systems in urban streets, squares, industrial estates, districts, neighbourhoods, etc. such as sewers, mains water, gas, electricity, telephone and other telecommunications networks, green spaces, paving stabilised slopes, protective margins, etc.
- Upgrading of road infrastructure and related systems, such as electricity, lighting, drainage, sewers, etc. and subsequent paving with asphalt or textured concrete, and pavement construction.
- Building or reinstatement of unclassified roads and firebreaks in rural areas, access roads to natural areas.
Others
In addition, Construcciones y Contratas Bernardo, S.A. also carry out all other types of construction work, including: Installation of solar parks, livestock facilities, household waste recycling centres, systems installations (electrical, gas, etc.), among others.
Construcciones y Contratas Bernardo, S.A. also offer solutions to any type of building project requested by clients, regardless of type.